Bluetooth earphones and gadgets are a craze nowadays, but not shortlived. They are here to stay for good. Mobility, convenience, and no device to remain stick to is what sums up a Bluetooth earphone. Not a dire need, but a useful one, Bluetooth earphones are a modern world requirement.
These earphones have simplified our lives to a very extended, and you do not realize it unless you use them. Therefore, to get you started with them, we have a list of best Bluetooth earphones under 2000 in India for you to buy. The price didn't hurt much and let you enjoy the convenience of hands-free operation. So, let's get to the list.
Top 10 Best Bluetooth Earphones under 2000 in India – Reviews
1. Realme Buds Wireless Bluetooth Earphones
Battery life: Up to 12 hours
Weight: 30 Grams
Fit type: In-ear / Metal string neckband
Color: Yellow and Black
Warranty: 6 months
Realme Buds wireless Bluetooth earphones are in-ear neckband earphones with only 30 grams of weight and attractive looks. The earphones are equipped with 11.2 mm bass boost drivers for bass lovers along with Japan Daikoku technology. The earphones are developed with Alan Walker for an excellent sound experience.
The earphones are made into an ergonomic shape, which rests around the neckband and on the shoulders. They are made from nickel-titanium alloy and silica gel. Form and structure are sturdy, comfortable, flexible, and also skin-friendly. The design is attractive and practical to stay comfortably in-ear.
The magnetic fast pair technology seamlessly connects the buds and keeps them magnetically attached when not in use for tangle-free handling.
The Realme Bluetooth earphones have 12-hours of battery backup for all-day battery when you are out in the day or night with 110 mAh battery. The battery backup is also backed by fast charging potential of earphones which provides up to 100 mins of playtime with just 10 mins of charge.
The Bluetooth earphones come with Bluetooth 5.0 seamless connectivity. They are also supplied with a total of 6 ear tips for varied use. The earphone comes with six months of manufacturer's warranty.
Pros
Pros
Practical design with sturdiness and flexibility
Bluetooth 5.0 connectivity
Up to 12 hours of playtime
Fast charging
11.2 mm bass boost with drivers
Cons
Cons
2. Sony WI-C200 Wireless Neck-Band Headphones
Battery life: Up to 15 hours
Weight: 15 grams
Fit type: In-ear / Neckband
Color: Black
Warranty: 1 year
Sony WI-C200 Bluetooth earphone is a feature-rich earphone with behind the neck design. The design is comfortable and flexible, which rest on the neck and shoulders and creates no interference while wearing. In-ear and non-wired connectivity through Bluetooth make it ideal for workout, sports, commute, and more.
It has a 9mm driver unit for a rich and zestful sound experience in the various music genres. The driver unit delivers dynamic audio with deep bass, crisp treble, and clarity. Matter of concern of Bluetooth devices, the battery is taken care of by Sony with up to 15 hours of playback. The earphones also have a quick charge to help you keep on the go with super-fast charging in less time.
For hands-free calling and operation, the earphone is equipped with an in-built mic and a multi-function button. Press button once to pick and end a call and twice to access your voice assistant. It is powered by Bluetooth 5.0 connectivity and USB type C connectivity for charging. It easily connects to various devices compatible with Bluetooth.
It has magnetic buds, which get attached making earphones and the wire tangle-free and easy to carry, collect and use. It is soft, portable, flexible, and weighs only 15 grams to move it around. It has a clean and subtle design to go with any style. They come with 1-year of manufacturer's warranty.
Pros
Pros
Lightweight and portable
Magnetic buds
15 hours of playback time
Bluetooth 5.0 and USB-C connectivity
Cons
Cons
3. boAt Rockerz 255 Sports Bluetooth Wireless Earphone
Battery life: Up to 6 hours
Weight: 26 Grams
Fit type: Flexi neckband
Color: Black
Warranty: 1 year easy replacement
boAt Rockers 255 is a sports Bluetooth earphone with a subtle and ergonomic design ideal for sports, gym, and other physical activity and outdoors. The earphones have a secure fit around the metal hose earpiece to stay in your ears during physical activities or moving around. The metal hose earphones also have magnetic ear tips to keep the earphone wire tangle-free and store carefully.
The earphone is powered by an excellent bass for music lovers and has in-line function buttons for easy access. With in-built mic and voice assistant support, it is easy to attend calls and gets updates from voice assistants like Siri and Google voice assistant. The earphone has Bluetooth 4.1 connectivity and a range of 10 meters.
The earphones have 110 mAh battery and have up to 6 hours of playtime. The battery also charges pretty quickly for use. The earphones are IPX5 certified to keep your activity going without the worry of sweat, splash, dust, and more. The earphones also have decent noise cancellation, and it can be connected to two devices at a time.
The product is also available in various other peppy colors like neon green, ocean blue, and raging red other than black. The best part is that the earphones come with a 1-year replacement warranty from the manufacturer's.
Pros
Pros
Quick charge
IPX5 certified
Magnetic ear tips
Connects two devices at a time
Cons
Cons
4. boAt Rockerz 261 Sport Wireless Earphones
Battery life: Up to 8 hours
Weight: 19 Grams
Fit type: Flexi neckband
Color: Raging Red and Black
Warranty: 1 year
boAt Rockerz 261 is also a sports activity compatible Bluetooth earphone. 261 is ideal for all those cumbersome on action activities with sturdy curved ear clips that keep the ear tips at its place during movements. Controls of the earphone are integrated in-line on the ear panel. The panel has the volume up and down buttons on the upper side of the panel and an all-function button on the front.
The mic of the earphone is placed on the ear tips that benefit with close range along with access to voice assistants like Siri and Google. All the functions remain on the ear tips and ear panel, which keeps the connecting wire without any weight and creates no disturbance or hassle during usage. The placement also offers quick access to the user.
boAt Rockers have 11mm drivers for a great music experience with quality base and clarity. The drivers are capable of delivering immersive sound to provide the user with natural sound and depth in the music. The IPX7 rated design of the earphone makes it sweat, dust, and resistant, which makes it ideal for your gym, sports, and more. The earphone also supports dual pairing to entertain multiple connections.
The earphones have a Bluetooth 4.1 and a connectivity range of 10 meters. For the battery backup, it has a 100 mAh lithium-polymer battery which provides battery backup up to 8 hours of playtime. For lovers of colors, the earphones are also available in Jazzy Blue other than Raging Red. The earphones come with a 1-year manufacturer's warranty.
Pros
Pros
Immersive audio with 11mm drivers
Dual pairing
IPX7 rating
Curved clip grip
Quick access for ear panel
Attractive and peppy colors
Cons
Cons
5. Mivi ThunderBeats Wireless Bluetooth Earphones
Battery life: Up to 7 hours
Weight: 18.1 Grams
Fit type: In-ear Flexi neckband
Color: Black / Grey
Warranty: 1 year
Mivi ThunderBeats in Gun grey and black color is a super comfortable Bluetooth earphone ideal for sporting activities. It has a secure grip that comfortably sets in your ears through the curved extensions to prevent falling off of the earpieces. The earpieces have a metallic body along with magnetic locks, and the connecting wire is skin-friendly, flexible and doesn't hinder movement.
The Mivi earphones have better connectivity options that support dual connectivity to connect two devices to the earphone at the same time. With Bluetooth 4.1 it has a range of 30 feet that is 10 meters. The earphones are equipped with in-line three buttons of control, two for volume and one multi-purpose switch for answering and disconnecting calls and for voice assistants. The mic helps in a hand-free calling which is placed with the in-line buttons.
The music of the earphones is equipped with HD sound, deep bass, and clear highs for the rich music and sound experience. The earphones are commute and travel-friendly with 7 hours of playtime with 120 mAh of battery. The design is also sweatproof, fit for training, gyming, and more.
The Mivi ThunderBeats wireless Bluetooth earphones support dual pairing with two Bluetooth compatible devices simultaneously. It comes with three sets of earbuds and in different sizes. The earphones also come with a 1-year manufacturer's warranty.
Pros
Pros
HD sound
7 hours of playtime with 120 mAh battery
Supports dual pairing
Comfortable ear hooks
Sweatproof
Cons
Cons
Not ideal for long term use
6. Mi Sports Bluetooth Earphones
Battery life: Up to 9 hours
Weight: 13.6 Grams
Fit type: In-ear, Flexi neckband
Color: Black
Warranty: 6 months
The Mi Sports Bluetooth is a 13.6-gram lightweight Bluetooth earphone apt for music listening outdoors while gyming, sports activities and more. Its in-ear placement with extended grips makes it ideal for the purpose along with its lightweight quality. The grips are 360-degree rotational for comfort and preference.
The design of the earphones is subtle and remains around the neck with in-line switches and mic on the wire. The controls have volume buttons and a multi-purpose button to receive calls and for voice assistant. The earphones have a battery life of up to 9 hours for the activities with 120 mAh of lithium-polymer battery. For connectivity, it has a 10-meter range with Bluetooth 4.1.
For the music, the earphones are equipped with 10mm drivers with high-quality copper enameled wire for rich and far-reaching sound. They are also equipped with ultra-thin PET diaphragm to stabilize vibration and reduce distortion in music and while using the mic. The sound system has MEMS silicon microphones for clarity of voice in calls. They also enhance sound for better music experience.
The Mi earphones are IPX4 certified, which protects them against sweat and accidental water splashes to help a user use them in the actions without worry. They have a reflective finish and a sleek design to go with various styles. The earphones come with a 6-month manufacturer's warranty from the date of purchase against manufacturing defects.
Pros
Pros
IPX4 certified
Affordable
120 mAh battery with 9 hours of playtime
PET diaphragm and MEMS silicon microphones
Lightweight and sleek design
Cons
Cons
Lacks latest Bluetooth version
Not likely for massive bass lovers
7. M96 Infinity 2.0 Wireless Bluetooth Sports Earphones/Headphones
Battery life: Up to 8 Hours
Weight: 150 Grams
Fit type: In-ear, Flexi neckband
Color: Black and red
Warranty: 1 year easy replacement
M96 Infinity 2.0 wireless Bluetooth sports earphones are your perfect companion in your sports activities. Earphones are designed for heavy sports activities with soft rubber grips and ear tips along with round clip which sits well on your ears. They never fall out design keeps your earphones intact With 8 hours of playtime, the earphones are equipped with a 120 mAh battery with a standby time of whopping 250 hours.
Compatible with all Bluetooth devices, the earphones also support dual pairing to connects two devices at the same time. Bluetooth 4.1 of CSR technology comes with aptX, which sends pure audio conveniently. The sound system of the earphones is true HD sound along with high fidelity stereo sound with superior Bluetooth connectivity. It has strong bass and clear treble.
Controls of the earphones are on the earpiece for volume setting, song selection, and on-off power button with easy access. The placement of the mic for hands-free calling is also on the earpiece with CVC 6.0 noise reduction technology. The earpiece also has an LED indicator and charging port to keep the wire neckband weightless.
M96 Infinity 2.0 is IPX7 certified, making it sweat and waterproof for your sports activity. It also has close to ear fit with ergonomic design making wearing them for long comfortable. The earphones come with three different sizes of ear tips and the manufacturer's warranty of 1-year for replacement against manufacturing defects.
Pros
Pros
IPX7 certified
Never fall out design and ergonomic
In-built design with noise reduction technology
True HD sound with high fidelity stereo
LED indicator and 8 hours of playtime
Dual pairing and aptX Bluetooth audio
Cons
Cons
Lacks voice assistant access
8. JBL T205BT Pure Bass Wireless Metal Earbud Headphones
Battery life: Up to 6 hours
Weight: 54.4 Grams
Fit type: In-ear, Flexi neckband
Color: Black and Gunmetal
Warranty: 1 year
For the bass lovers, JBL T205BT is a treat. Packed with 12.5 mm drivers and JBL pure bass sound, the earphones have superior deep and powerful bass output. It has Bluetooth version 4.0 for connectivity along with a 120 mAh battery with a playtime of 6 hours. The battery gets charged quickly and gets fully charged in 2 hours.
Along with the great sound, the earphones have ergonomically designed earpieces that comfortably set inside the ears. They are ideal for comfortable wearing for a long time, causing no pain. The design also has a flat cable which makes the earphone tangle-free and easy to pack and carry around.
The JBL T205BT is lightweight with 54.4 grams of weight, ideal for your outdoors, strolls, and more. The controls are on the remote panel on one side of the wire with volume control buttons and call answering button along with the mic. The earphone from JBL comes in four different colors and with a brand warranty of 1-year against manufacturing defects.
Pros
Pros
JBL Pure bass sound
Quick charge battery
Tangle-free flat wire
Lightweight and ergonomic design
Cons
Cons
Not ideal for sports activities
9. Philips SHB3595BK/10 Wireless Bluetooth Headphones
Battery life: Up to 6 hours
Weight: 13.6 Grams
Fit type: In-ear, Flexiband
Color: Black
Warranty: 1 year
Now available in India Philips SHB3595BK/10 wireless Bluetooth headphones/earphones are a must-buy in the price range. The earphones are equipped with 8.6mm drivers for clear and compelling sound delivery. They have oval sound tube inserts that block out noise from the surroundings, making your music listening experience better along with calls.
The earphones are lightweight with just 13.6 grams of weight and flexible neckband design which lets you feel no weight and doesn't come in your activity. Hands-free calling with the in-built mic keeps you on the go without taping on your phone. The controls are in-line with three buttons for volume and calls placed on the wire for easy access.
Philips earphones have a subtle and sleek design to go with any looks with its branding on the earpieces. The ear tips of the earphone come in three different sizes for comfort fit according to the user's ear size. It is easy to carry and portable to carry packed around. It is also covered under a 1-year warranty from Philips from the date of purchase.
Pros
Pros
8.6mm drivers for bass and thump
Lightweight with 13.6 grams of weight
In-line controls and separate mic
Simple and sleek design
Cons
Cons
Basic features compared to its peers
10. Boult Audio ProBass Muse Wireless Bluetooth Sports Earphones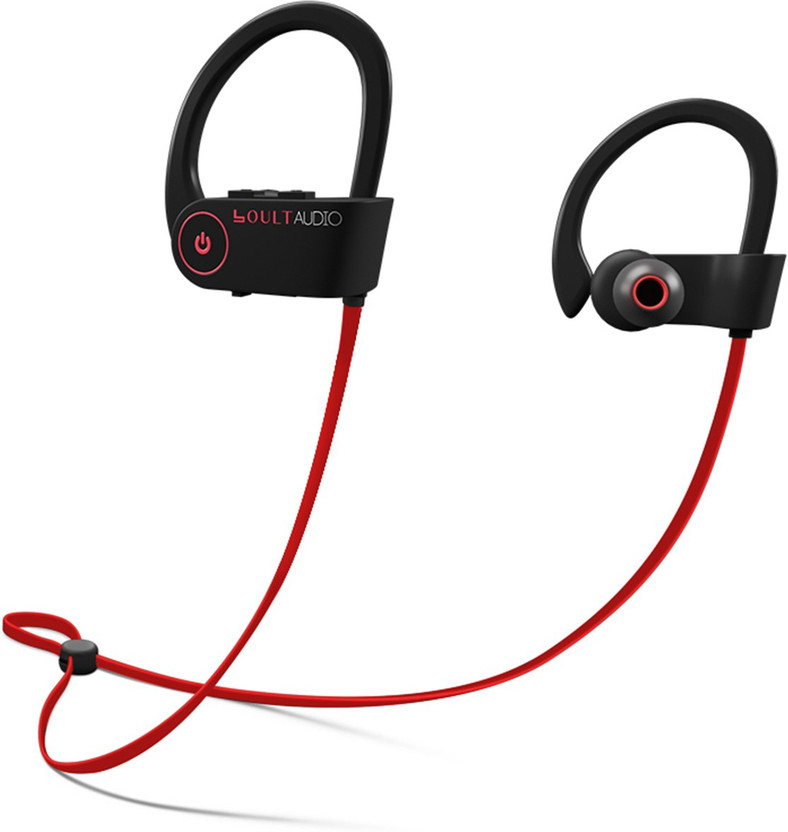 Battery life: Up to 8 hours
Weight: 14 Grams
Fit type: In-ear, Flexi neckband
Color: Black
Warranty: 1 year
Boult Audio ProBass Muse is a wireless Bluetooth sport earphone with an IPX7 waterproof rating. IPX7 makes your music playing earphones sweat and waterproof, which is ideal for gym and other sports activities. It is also lightweight with only 14 grams of weight, which makes it barely noticeable while wearing in terms of weight. The design also comprises of ear hook, which is a curved clip that keeps them at the place during action.
The music of the earphones is equipped with Boult's Neodymium technology. The technology helps drivers to deliver HD sound with HD 3D acoustic and deep bass. The technology offers an immersive audio experience. The deep bass of the earphones is due to the built-in micro-woofer which adds the thump, and you enjoy clear treble too.
The earphones are tangle-free due to its flat cable. They are also packed with a good battery life which has a playtime of up to 8 hours. On standby, the battery lasts for two long days. The controls are in-line on the earpiece with buttons for volume and a multi-purpose button for calls and voice assistance through Siri and Google Assistant.
Boult Audio's earphones are powered by Qualcomm's CSR 8635 Bluetooth chipset with CVC Audio Tech and a five-band equalizer. The Bluetooth connects with Bluetooth compatible devices and facilitates dual pairing at the same time. They are available in two colors black and red with variation in color of their cable. A manufacturer's warranty against manufacturing defects comes with the earphones.
Pros
Pros
IPX7 rated
HD 3D acoustic sound
Up to 8 hours of playtime and two days of standby
Lightweight
Cons
Cons
Recommended: Best Soundbars in India [Reviews and Buyer's Guide]
Buyer's guide to buy the best Bluetooth earphones under 2000 in India:
Well, you must be thinking you that purchasing a Bluetooth Earphones is not a big deal and you need to take care of the music and the Bluetooth and are done. However, no, there are quite a few things you need to take care of to buy a useful pair of Bluetooth earphones. These features and qualities bring usability and utility to your pair of earphones, so now let's take a look.
Battery:
Battery backup of your Bluetooth earphones can be a deal maker or a deal-breaker. You rely on the battery for the music to play and calls to pick. Taking them out for the day will heavily rely on the battery backup they have. Therefore, it is the most crucial aspect of your purchase. So, look for earphones with decent battery backup and least of 6 hours of playtime. Going up to 8 to 9 hours will be great for travel and the whole day. The standby time of the battery will help you receive calls for the entire day. Therefore, also look for battery backup, which stays on good standby time.
Fit type:
Bluetooth earphones are designed for mobility; therefore, the fit type is also an essential aspect of the gadget. The fit of the earphone for gyming, sports, and other outdoor activities in quite necessary to stay during the movement. You do not want to plug them again and again during your activity. A comfort fit with a comfortable stay is a must. Therefore, the right size of ear tips and curved clips or hooks that you call them will bring comfort and non-movement remain on the ears. So, look for a practical design with multiple size ear tips, with ear clips and more to give you a better and comfortable fit.
Weight:
Weight and comfort go hand in hand, and your earphones need to be light in weight to be comfortable. If the intended use of your Bluetooth earphones is at the gym, in some sports, or practically outdoors on your bike, etc., the weight will be the factor prevailing to be considered. Your earphones should be light on your ears to help you enjoy wearing them without hurting your ears so, look for lighter ones.
Bluetooth version:
Bluetooth versions have nothing to do with connectivity. All Bluetooth compatible devices connect to other Bluetooth compatible devices irrespective of their versions. However, getting the latest ones comes with technological updates and better features, connectivity, and more. Getting Bluetooth versions 4.0 and above will enable dual pairing, and getting 5.0 will help you with better audio quality. So, go for the ones which will be going well with the version of your phone and devices.
Sound and mic:
Sound and mic quality are essential for the right Bluetooth earphone. Music, bass, thump, call audio quality, and mic's ability to send clearer audio should be given priority. So, for good music look for good audio drivers and mic with low distortion, which will improve your call quality. The latest technologies and trusted brands will provide you with good sound and high quality. Your music preference will also help you decide to pick what type of earphones. Shape and fit will also affect sound and mic. So, go into details and look for a pair which suits you the most.
Frequently Asked Questions (FAQs) Regarding Bluetooth Earphones:
1. Which are the best Bluetooth earphones?
As we always emphasize the fact that the choice of one best product is very subjective. Therefore, we have a few picks for you from our list to help you pick one best for you. From the list of 10 best Bluetooth earphones in India, you can select Realme Buds wireless Bluetooth earphones as an all-rounder. Realme Buds are good at music, features, and obviously price. boAt Rockerz series and JBL is a sure pick for music and bass lovers, and you can go for Philips and Sony for subtle look and use.
2. How much Bluetooth earphone costs?
Bluetooth earphones come in various price ranges and quality. You can buy a Bluetooth earphone in a few hundred rupees to many thousand rupees. You can also pick a Bluetooth earphone with bud connecting wire or a total wireless earphone with just earbuds. Options for Bluetooth headphones are also available. Features, technology, and quality have made this into a broader area in terms of cost and others. You can pick the best Bluetooth earphones under 2000 in India from the list above.
3. How do Bluetooth earphones work?
Bluetooth earphones use Bluetooth connectivity to connect to your phone, computer, or any other Bluetooth compatible device to play music or calls. Bluetooth uses radio waves to connect, communicate, and transfer in a short-range. Bluetooth connectivity is short-range communication technology between compatible devices and is used for music, calls, file sharing, voice commands, and more.
4. What are wireless earphones?
Wireless earphones are the ones that offer you connectivity to your devices like mobile phones and computers wirelessly. They do not connect with these devices by connecting wire and establish Bluetooth connectivity as a medium to play music, receive calls, and access voice assistants. They have a separate set of earpieces that are also not connected through a wire and even connect via Bluetooth.
5. Which is the best earphone under 2000 in India?
We have a list of top 10 best Bluetooth earphones under 2000 in India to help you pick one for you based on a limited budget. According to the list, you can choose Realme buds with every modern spec and reasonable price. Apart from Realme buds, you can pick from boAt, JBL, and Sony with quality and brand assurance.
6. What's the difference between wireless and Bluetooth headphones?
A wireless earphone is a set of earbuds connected via Bluetooth and to the device like a mobile phone and computer. They have no sort of wire for any connectivity, whereas a Bluetooth headphone or earphone have wire connection between the two buds or phones of each ear. Bluetooth headphones and earphones connect to devices via Bluetooth and which is common between them and wireless ones.
7. Are Bluetooth headphones compatible with all phones?
Bluetooth connectivity is connectivity over Bluetooth compatible devices. Bluetooth devices connect despite the difference in their operating system and other reasons. If your phone has Bluetooth, you will be able to connect with Bluetooth headphones and every other Bluetooth device.
8. Can I connect a Bluetooth 4.0 smartphone with a Bluetooth 4.1 headphones?
Yes, every Bluetooth connects to other Bluetooth irrespective of their versions. You can connect your 4.0 smartphone with 4.1 Bluetooth headphones. Every Bluetooth compatible device connects to another Bluetooth device. Versions are upgrades and promote technological improvements like better audio transfer, multiple pairing, and more which can be enjoyed by pairing gadgets with the same Bluetooth version.
9. Can the Bluetooth version be upgraded?
No, you cannot upgrade the Bluetooth version of your device. For the upgrade, you need to upgrade to devices with the upgraded versions, as you can upgrade the existing version in your device.
10. Does Bluetooth 5 sound better?
Yes, Bluetooth 5 is better than the previous versions of Bluetooth, but it still involves various other aspects. Bluetooth 5.0 has an increased range, higher speed along with higher broadcasting capacity, which makes it likely to offer better audio transmission. It promotes speed and quality, which results in rich sound experience and more.
Verdict:
The above list of the best Bluetooth earphones under 2000 in India was pretty much impressive as every product out there is competent and potential. Despite the price range, the products are quite performing and have features to be considered. It will be challenging to pick one from them as they are all good. Preference over one feature or other will help you choose yours quickly, and for the same, we have three products for the suggestion.
Realme buds are all-rounder, JBL is for the bass lovers, and Boult Audio is an unexpected but very well received product because of it's built and performance. Mi sports Bluetooth earphones are also reliable and also for various use. So, pick your earphones and enjoy good music!